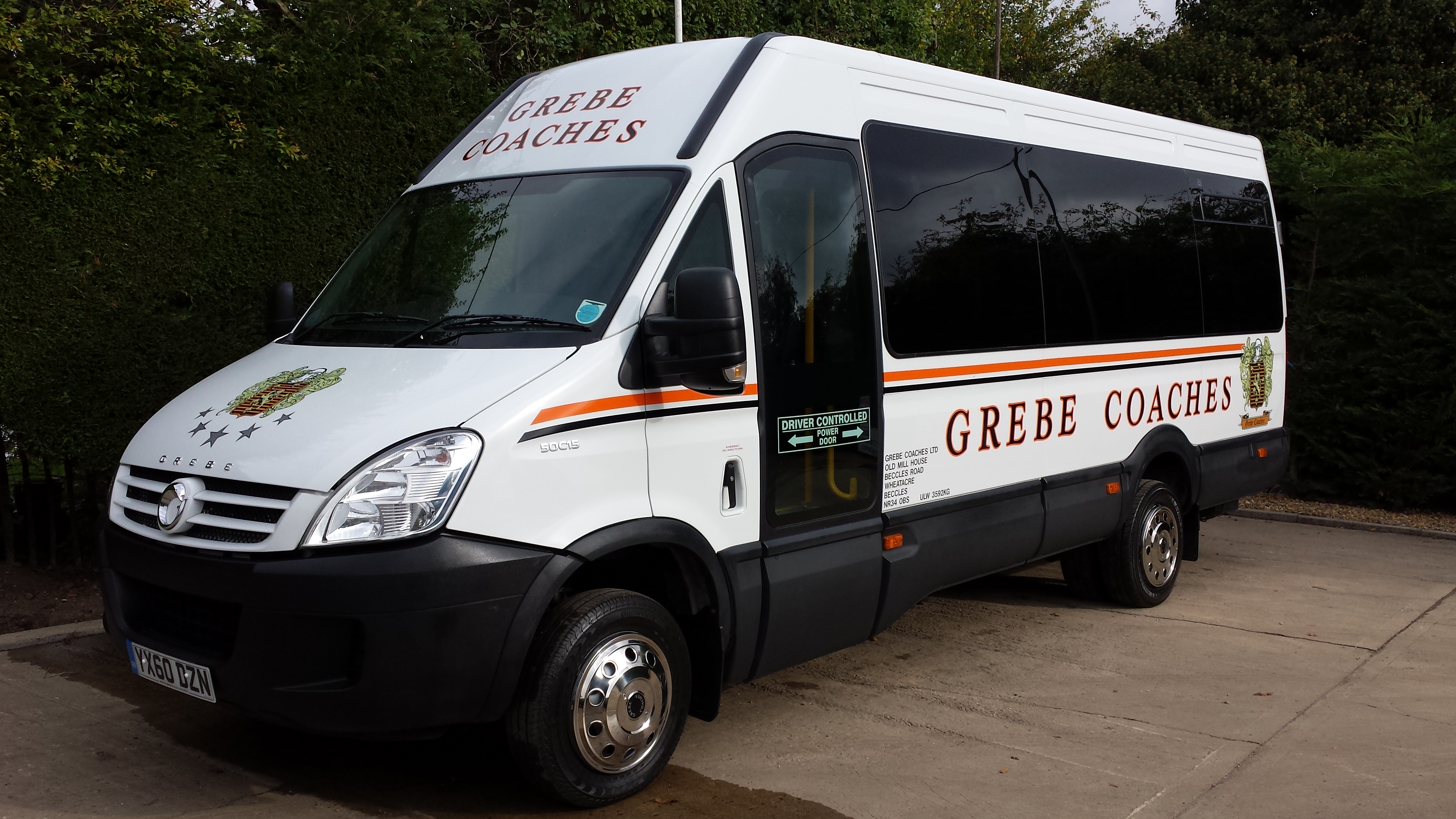 Grebe Coaches offer competative prices for transfers from home to all UK airports.
From 8 - 35 passengers we can collect from one or more locations to take you to the airport of your choice then return to collect you when you fly back into the UK.
Child seats can be kept securely at our depoit ready for your return journey.

Late night or early morning transfers are not a problem - just contact us with your journey details for a tailor made quotation.
Grebe coach hire operates in
Grebe coach hire operates in
Grebe Coaches operate from Beccles, Suffolk and collect in all areas in Suffolk and South Norfolk and travel to any UK airport.

and all towns and villages inbetween
Call or fill out the contact form for a quotation.
Contact us on 01502 677437 or email enquiries@grebecoaches.com.
rebes Coachs covers a wide area of Norfolk, some of the main places which Grebes has been working from are:
Attleborough, Cromer, Diss, Dereham, Fakenham, Gorleston, Great Yarmouth, Hunstanton, Loddon, Thetford, Wymondham, Norwich

If your town/city is not listed, then do not asume we do not work in that area. Feel free to give us a call or fill out the contact from provided. - See more at: http://grebecoaches.local/norfolk#sthash.OZZSuFR1.dpuf
rebes Coachs covers a wide area of Norfolk, some of the main places which Grebes has been working from are:
Attleborough, Cromer, Diss, Dereham, Fakenham, Gorleston, Great Yarmouth, Hunstanton, Loddon, Thetford, Wymondham, Norwich

If your town/city is not listed, then do not asume we do not work in that area. Feel free to give us a call or fill out the contact from provided. - See more at: http://grebecoaches.local/norfolk#sthash.OZZSuFR1.dpuf
rebes Coachs covers a wide area of Norfolk, some of the main places which Grebes has been working from are:
Attleborough, Cromer, Diss, Dereham, Fakenham, Gorleston, Great Yarmouth, Hunstanton, Loddon, Thetford, Wymondham, Norwich

If your town/city is not listed, then do not asume we do not work in that area. Feel free to give us a call or fill out the contact from provided. - See more at: http://grebecoaches.local/norfolk#sthash.OZZSuFR1.dpuf